You want to live on a beautiful and big property 1,5 hours from Paris then read further here.
danish / dansk - klik venligst her
Moulin de Planchette is the name of this magnificient property - I also call it Micro Macro Monde. I have lived here on and off for the past 10 years but have now decided that I have to find some partners who wants to share this amazing place with me.
The property is an old watermill based on 7,5 hectares of very fertile and now almost pristine nature - placed in Sarthe, very close to a beautiful little french town called La Ferte Bernard with app. 10.000 inhabitants and direct train to Paris (1.5 hour) and Le Mans (20 min.).
There are almost 1000 m2 of rustic old buidings - partly renovated very modestly - very basic like it should be in the countryside. However there is running water - and hot water - and telephoneline and internet - and electricity and various other modern commodeties.
I have had many plans for this place - and I still have, but I want to find others to share the property with - and develop new plans - or just live life here with others.
And who are YOU - the new "others" on Moulin de Planchette? You could really be anyone - you could come from anywhere in the world - You could be chineese or french or danish or brazilian or from Uzbechistan or from wherever - main thing is that you would be looking for a little piece of paradise and a little part of France not far from Paris and in the middle of very beautiful nature.
You could be an artist or a doctor or a secretary or a bollywood star - doesnt really matter, but you would be looking for a unique place where probably some slightly differently people would live - as a matter of fact you are probably not that mainstream - and you would for sure love to spend parts or maybe all of your time in the company of likeminded.... and yes you are probably also relatively engaged in issues relating to nature and the environment, art, new technology and then you are probably a proper "epicurian".
Anything is possible here - and its up to you or to us - we could make a big new community project or we could make a "gite" - a french country type hotel - or maybe a fantastic artist retreat or we could make something completely different.
As I have already written I have had tons of plans for this wonderful place - and I still have - and you can read more about some of them here for example - if you clique here. You are also very welcome to contact me for chatting about possibilities, prices etc. Im open for anything and everyone.
more information:
Niels Peter Flint - npflint@gmail.com - phone: +45 26671143 - skype: npflint1
I will make "open houses" the coming months where you are more than welcome to come and stay for a night or 2 to experience the place properly. I will also hold information meetings in Copenhagen and Paris and possibly also other places - if you are several people who are interested lets say in Berlin I would be more than happy to drop by Berlin with my little MOULIN DE PLANCHETTE / MICRO MACRO MONDE SHOW.
I will post the dates here and on facebook.
The first planned openhouse will be May 2018 - if you are interested in coming then please contact me.
RENTING
You can also rent if your prefer that - please clique here in that case - there you will also find a lot more picture.
le moulin - The old mill building
This is the old mill-building and this is where I also have lived the past 8 years. The building has 3 floors and app. 470 m2. Its a very big building and with a lot of possibilities. I am currently using most of the building for living and as atelier, but will move out when a new owner is found. The building even has a small tower of 3 floors as well where you can live as well if you want to. It would be relatively easy to make at least 4 to 5 apartments in this building - but could also be just for one exentric person......who needs a lot of space....
le etable - The old stable building
This is the other major building for sale - its the old stable building which has been renovated a lot, but still needs a lot more work however depending on what you want to use this charming old building for. There is app 450 m2 here on 2 floors, so there is also a lot of space. The building could be turned into smaller appartements - 4 can easily be made, but could also be less - it all depends on coming owners and their wishes.
le etable - The old stable building
The left part of the building has been insolated and can be used all year round, but only heated with a woodburning stove which on the other hand from my point of view is the most appropriate ways of heating in these buildings.
the lake
This is a lake that I have had made and which I have used as a kind of natural swimmingpool. The water is fresh since it comes from a sources not that far away from the property.
You have very easy access to the property since the A11 highway is 2 km away - the train station in La Ferte Bernard is 6 km away. There are trains every 2 hours to Paris. But an easy way is also BLA BLA CAR-sharing if you want to go to Paris or any other place.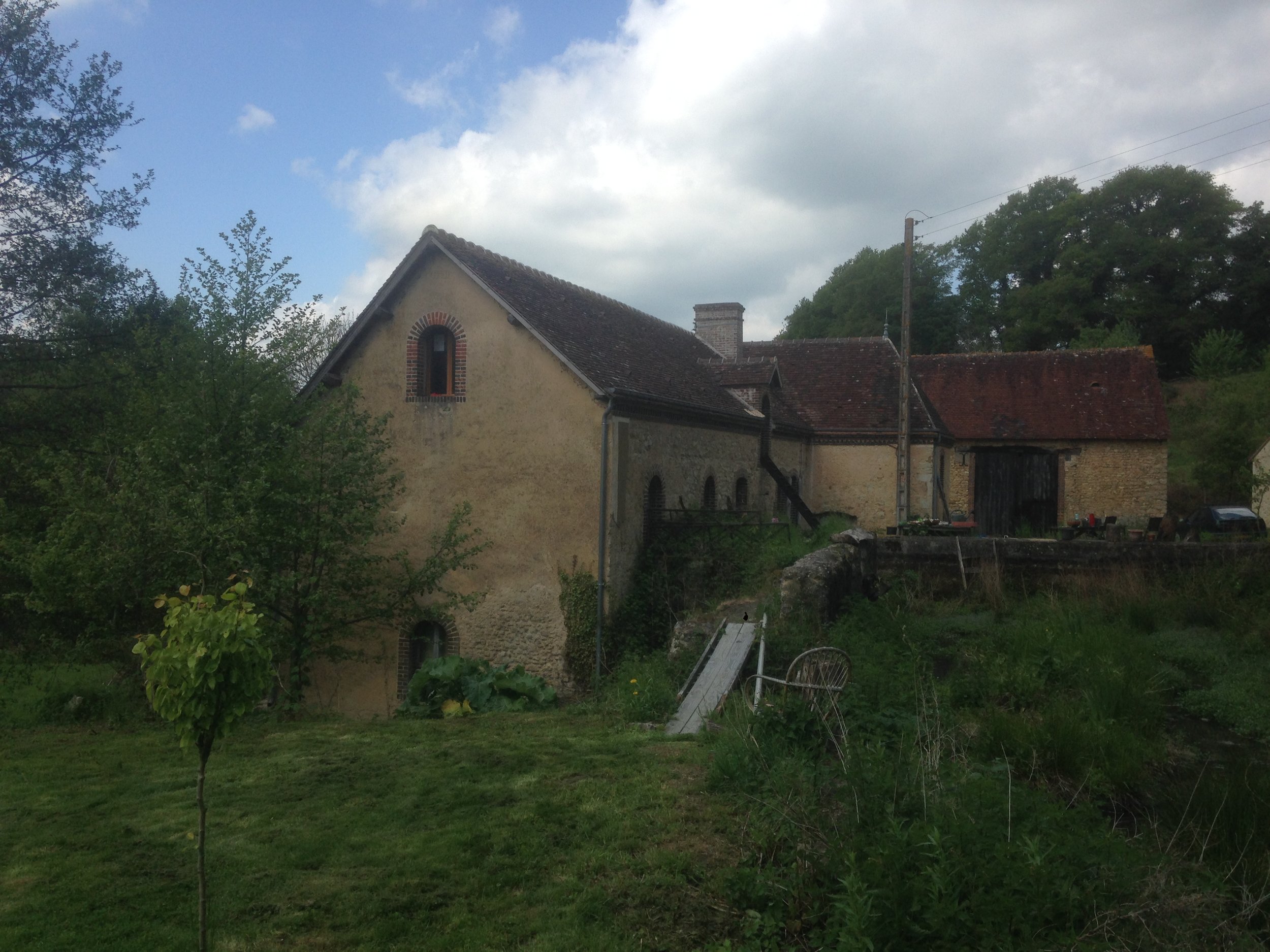 Click on the image above and stroll a bit around at Moulin de Planchette.....
..and if you are very eager to read or see more about what I have had in mind - and what I have done - then please click on this link or see more on the slides below back from 2009 when I was trying to set up courses in RADICAL SUSTAINABLE DESIGN INNOVATION.....you have to click on the slides to change...
Recommendations and comments from individuals who have visited the moulin:
Michael Sheikh & Annelise Kaalund Sheikh - real estate developers Copenhagen, Denmark - http://www.momentumplus.dk/
Annelise and I had the great pleasure to visit NP on the mill this summer (2017). The place is incredibly charming and cozy and one should be able to get a lot out of it. The location is great and the property oozes of "French countryside". The buildings are of high quality and can easily be made into a number apartments or houses with lots of space so that you dont have to feel "congested". An on-site restaurant should be able to draw people with dishes based on Terroir and the beautiful surroundings to enjoy the food.
Mathilde Bretillot - designer, Paris, France - http://www.mathildebretillot.com/
Le Moulin is a place for creatitiviy. The atmosphere is very inspiring and I have spent some great moments there painting and making things with joy and freedom. A precious place for new experiences.
Jean Louis Gavard - restaurateur - L'autrecafé, Normandy, France
Loin du monde et pourtant a la sortie d autoroute a 1h30 de paris
a quelques kilomètres un charmant village la ferté Bernard
un cadre exceptionnel dans la nature au bord d une rivière
a découvrir...
Pouline Middleton - Writer & CEO, Copenhagen, Denmark
The Moulin de Planchette is a great place - and for people with a dream it can become just the perfect frame. You get the ambience of historic buildings, in beautiful nature and with the possibility of making it work for your specific purpose. There is a magnitude of the many potentials that you sense when you visit the place. You can use it for your own private lodgings or you can hold courses for people over a week or a weekend. You can use it for a gallery, or for workshops of any sort of art or production. If you are into gardening their is different well suited areas around the houses or on the big piece of land that is part of the Moulin for you to harvest what you desire. For the right people with a dream, handyman skills and money to make it come through, this place is ideal.

 

If you decide to enter into a partnership with Niels Peter Flint around the Moulin you will get a great partner who is full of imaginative ideas, good at making things happen also through his large international network, and he has a deep sense for the spirit of the Moulin that I'm sure will benefit your cooperation. Again for the right match of ambitions, dreams and personalities, the Moulin can become the ideal to live, work and entertain.